Dear friend,
Welcome to the "best of...#ablogginggoodtime." Katie and I are overwhelmed by the number of fantastic posts linked up each week and in an effort to give something back I decided to run a monthly feature to showcase some of the brilliant bloggers who regularly link up with us.
The diversity of posts linked up every month is amazing...everything from recipes to poems and lists, heartfelt and inspiring stories to hilarious tales and brilliant tips. Thank you so much! I know that we both struggle every week to pick out a featured post.
This months featured posts include:
Finding my blogging niche – and why I won't be bothering
I've been doing this blogging lark for a while now. When I started out, this blog was supposed to be nothing more than a place to dump my thoughts and to get stuff off my chest that simply had no where else to go. I never set out with an agenda. I didn't start this to be 'a blogger' I started to give myself 'a space'. The lack of a derivative of the word 'mummy' in my blog title should tell you that. My blog is me.
So imagine how alien I find the concept of finding 'a niche' for my blog? But this is what successful bloggers are advising now. I can understand why. The market place is crowded for one. Having a 'thing' will make you stand out in the, to be honest, noisy crowd. And I don't know, maybe people want to to be able to compartmentalise their lives in these days of ultimate connectivity. A case of 'I get this from her' or 'that from him'? I guess. But, do you know what, I don't buy it.
This was such a refreshing post to read and I totally agree with Lisa. It is so easy to be sucked into the… to be successful you need to do x, y & z. I tried but it didn't work for me as I started to find blogging a chore. I love Lisa's blog, it was one of the first blogs that I really connected with (and not just because of the autism link) It was her voice! Please check out her post...
8 WAYS TO LOVE
YOURSELF
I lOVE MYSELF. There. I said it. Am I egotistical? Am I vain? No, I'm a girl who's finally learnt her lesson, some might say one of the most important lessons of all. Self love. And why might you ask, is that SO important?
Well, it's like those airplane safely videos… always fit your oxygen mask before helping others, and we all nod in agreement, right? But are you actually doing the same in life? More than likely as you half read this post, something is bubbling on the hob, the phone is ringing, you've got a mop in one hand, maybe a breast pump in the other and the toddler just poked the cat in the eye. So think again.

It's a simple thing really, an oversight if you like, we busily hustle on, without seeing the damage we're doing both physically and mentally. We're under so much pressure to be a great wife, a wonderful mother, a successful woman, a doting daughter, a thoughtful friend, etc etc that we forget the little mind and body attached to all those labels!
So, having made this mistake one too many times I've complied a list of 'Love myself' fixes to replenish you mind and give a tender hug to yourself!
Another brilliant post… I sometimes have a little wobble but yes I can safely say I have learnt to love myself. And guess what changing my mindset has made me feel so much better. I love the suggestions Petite makes to help us love ourselves…I certainly find blogging cathartic and can highly recommend going for a walk, I love beach walks especially with my dog for company…
That Annoying Thing That Bloggers Do…
What's Your
Twitter
Handle?
There is one thing that I have found with blogging is that it is a very supportive community. Everyone helps each other out and gives virtual hugs all round. How? By sharing that lovely thing called love, sweet L.O.V.E. AKA Sharing each others blog posts. Blogging etiquette deems it necessary that if you find something that you've enjoyed reading, that you share it.
I hear you ask though, "What is that annoying thing that Bloggers do?"
Okay, it's not every Blogger, but more than you would think, you may be one of them…
There are a dedicated team of Linky Hosts out there, I dare say hundreds, all hosting a variety of different linkys.
I'm one of them
. A good host will tweet your linked up blog post, sharing your blog with all their followers. As a fairly new blogger myself I love receiving a retweet of my blog posts, especially from the blogging elite.
This is where the problem lies… YOUR Sharing Buttons! What is your Twitter Handle???
I wanted to crawl through my computer and hug Karen for writing this. I admit though that the lovely Aby (YouBabyMeMummy) did point this out to me and I didn't have a clue what to do! I mailed my hosts who do my share buttons and they helped me. As a linky host I spend a lot of time looking for people's handles so would absolutely love it if people checked. I really appreciated how Karen was not too preachy with this post she managed to get her message across perfectly!
Please imagine my depression is asthma
I've had depression since before I knew what depression was. Actually my primary affliction is anxiety and my unwanted thoughts make me feel despondent but the intricacies of other people's melancholy are really boring so all you need to know is, sometimes I feel rubbish.
I've been to GPs over the years and been offered variations of 'chin up love' but after I had Roscoe, tiredness and hormones made my crazy hit factor batsh*t. My baseline mode of low level anxiety, mixed with parenting anxiety, led to anxiety squared and I became convinced that a series of terrifying but ridiculously unlikely things would occur (think tsunami in Brighton) and I didn't want to tell health professionals about it because I was anxious about their reaction. And so I wrote down what I was feeling (something I recommend if you're feeling anything similar) and took it to see my GP, Dr Punja and he said, 'Mate, you're obviously depressed and I can offer you therapy but to be clear you're 37,567th in the queue, so I'd recommend these drugs.' And it was one of the happiest days of my life.
Those pills made me feel seen; they made me feel heard; they made me feel validated. Prior to recently I didn't really talk about my depression because I acknowledge I am in a very privileged position within the world of mental illness - I have supportive friends and family and I can function and hold down a job. But also, there's always an also, I didn't really talk about it because depression sometimes seems so basic; like such a soy latte, cracked iphone screen cliché.
Read more...
There is still such a taboo around speaking about mental health issues. I know people who have been scared to talk about their problems particularly in the work place due to fear of judgement. It is time people started to accept that depression is an illness. A brilliant post - pop over and check it out!
All our featured bloggers are free to put a special badge on their blogs if they wish!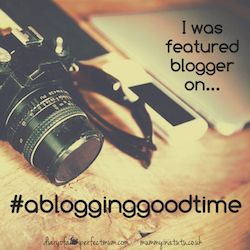 Please show your fellow bloggers some support by sharing their posts across your social media, let's spread the love and give a little back to our wonderful community...
Read more...