Are you ready for #ablogginggoodtime?
Join Katie and I in a fabulous community of supportive bloggers. Our linky runs from Thursday to Saturday and all bloggers are welcome to add any type of post... Help us to spread the blog love! All posts are welcome...
Today there will be some work going on on the blog. I am having a new theme installed. Although Diary of an Imperfect Mum should not go down, you may find some widgets moved.

I hope it doesn't cause any problems!

Featured posts this week:
Good for her, not for me.
Such a positive and inspirational piece. I've been having a blogfidence crisis and this was just what I needed to read! The stand out quote for me was don't quiet your voice because you're worried it isn't perfect! Thank you for sharing this with us. If you haven't read it yet, I suggest you pop over, it will make you feel more positive, I guarantee!
Katie's favourite is I'm not a Cool Mum from the
Accidental Hipster Mum
. Katie says: I love how she measures her coolness and they way in which she tries to score more cool points. I don't think I'm a cool mum but my little girl thinks I'm pretty great so I'm happy to be uncool...
Feel free to put a special badge on it!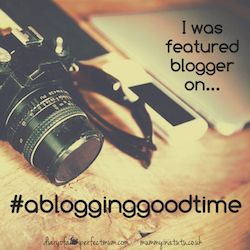 Please note there is a slight change in rules.
#ablogginggoodtime Linky:
The linky will be open from 6am Thursday – 6am Saturday GMT.

We will comment on and retweet all linked posts.

I have started my new job and will not be available to retweet on Thursday as I used to as I will be in a class of 5 year olds... But

I will continue to retweet all posts linked up as I comment so you will not miss out, I promise!
#ablogginggoodtime Linky Rules:
1. Add the #ablogginggoodtime badge to the HTML / Text portion of your post. If you need any help linking up, read the fabulous
Linky Guide
from Cuddle Fairy or tweet us (@animperfectmum @mummyinatutu).

2. Please comment on one post from each host & one other of your choice. (A total of 3 but feel free to comment on more!)
3. Retweet 2 posts of your choice using #ablogginggoodtime (It helps if you have your twitter handle in your social sharing buttons)
3. Link a maximum of 2 posts per week.
4. By entering the link you are agreeing to be added to the email reminder list. (You can request to be removed at any time!)