Are you ready for #ablogginggoodtime!
Join Katie and I in a fabulous community of supportive bloggers. Our linky runs from Thursday to Saturday and all bloggers are welcome to add any type of post... Help us to spread the blog love! All posts are welcome...
Featured posts this week:
Things no one warns you about school
Oh this made me laugh. I of course see the other side. Things that have driven me mad so far are unlabelled clothes left in the corridor, massive snacks that kids don't have time to eat or sending snacks that kids don't like, why? Perhaps I should write this from the teachers viewpoint, although my new boss may not be so impressed! Great post! 🌟
Read more...
Katie's fave is
Lucy at home
The Day My Twitter World Fell Apart
This really resonated with me. When I saw some of the people I interacted with on a daily basis didn't follow me I was hurt. However, I also realised that I don't want fake followers... I want people to follow me because they want to and not because they should. Hang in there and stay strong...
Feel free to put a special badge on it!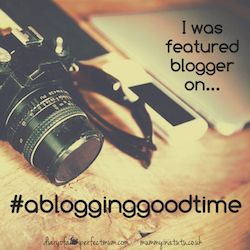 Please note there is a slight change in rules.
#ablogginggoodtime Linky:
#ablogginggoodtime Linky Rules:
1. Add the #ablogginggoodtime badge to the HTML / Text portion of your post. If you need any help linking up, read the fabulous
Linky Guide
from Cuddle Fairy or tweet us (@animperfectmum @mummyinatutu).

2. Please comment on one post from each host & one other of your choice. (A total of 3 but feel free to comment on more!)
3. Retweet 2 posts of your choice using #ablogginggoodtime (It helps if you have your twitter handle in your social sharing buttons)
3. Link a maximum of 2 posts per week.
4. By entering the link you are agreeing to be added to the email reminder list. (You can request to be removed at any time!)