Are you ready for #ablogginggoodtime!
Join Katie and I in a fabulous community of supportive bloggers.
Our linky runs from Thursday to Saturday and all bloggers are welcome to add any type of post...
Help us to spread the blog love! All posts are welcome...
Featured posts this week:
Why we should be taking photos of the mundane...
first of all, bloody awful that Emma's parents were burgled. I've been through that twice and it's just heartbreaking! Secondly, I agree entirely with the sentiment of this post and strongly feel that photos should be taken of every day – capturing the ordinary is so important. I had parents who hardly took any photos at all, only of special occasions I think it is really sad, especially as I have a very bad memory and don't remember much of my childhood! I drive my kids mad snapping shots of them all the time but I want them to have a record of theirs
.
Katie's favourite post:
The secret life of baby: Supermarket weep
... This really made me chuckle... it's interesting to look at a situation like this from the inner monologue of a child. My daughter has just started to test her voice in the supermarket though luckily enjoys riding in the trolley and waving at people for now. This has left a little fear deep inside but a laugh on my lips. Thanks for sharing...
Feel free to put a special badge on it!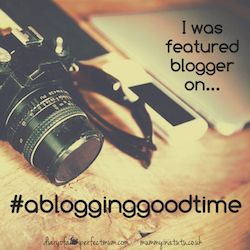 #ablogginggoodtime Linky:
#ablogginggoodtime Linky Rules:
1. Add the #ablogginggoodtime badge to the HTML / Text portion of your post. If you need any help linking up, read the fabulous
Linky Guide
from Cuddle Fairy or tweet us (@animperfectmum @mummyinatutu).

2. Please comment on one post from each host & one other of your choice. (A total of 3 but feel free to comment on more!)
3. Retweet 2 posts of your choice using #ablogginggoodtime (It helps if you have your twitter handle in your social sharing buttons)
3. Link a maximum of 2 posts per week.
4. By entering the link you are agreeing to be added to the email reminder list. (You can request to be removed at any time!)