Are you ready for #ablogginggoodtime!
Join Katie and I in a fabulous community of supportive bloggers. Our linky runs from Thursday to Saturday and all bloggers are welcome to add any type of post... Help us to spread the blog love! All posts are welcome...
Featured posts this week:
My pick is...
What nobody tells you about miscarriage.
I am in awe that Laura was brave enough to share her experiences and she gives some absolutely brilliant advice here. As someone who has experienced 2 miscarriages I found they were both different but equally devastating emotionally and physically. I know that Laura's words will help someone going through this awful experience now! Great post!
Katie's pick is...
A tribe a thank you & a reason to blog.
Ellen talks so beautifully about how blogging has made her feel including a heartfelt message to myself. This post brought a tear to my eye as I stupidly read it when I was feeling down but a tear in a good way. Ellen as well as the other wonderful girls in the tribe have brought so much to my life – I know we are all so thankful to have found each other. The fact that another blogger has written such wonderful words about Ellen is a testament to what a lovely person she is.
Feel free to put a special badge on it!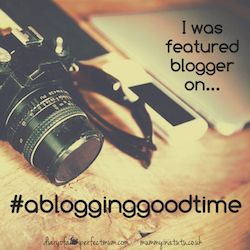 Please note there is a slight change in rules. Katie and I are always amazed and totally thrilled that so many fabulous bloggers join us in our party but in the interest of workload have had to change the number of posts to 1. We really hope that doesn't disappoint too much but we did not want to restrict numbers and turn anyone away. Thank you for your understanding ❤️
#ablogginggoodtime Linky:
#ablogginggoodtime Linky Rules:
1. Add the #ablogginggoodtime badge to the HTML / Text portion of your post. If you need any help linking up, read the fabulous
Linky Guide
from Cuddle Fairy or tweet us (@animperfectmum @mummyinatutu).

2. Please comment on one post from each host & one other of your choice. (A total of 3 but feel free to comment on more!)
3. Retweet 2 posts of your choice using #ablogginggoodtime (It helps if you have your twitter handle in your social sharing buttons)
3.
Link a maximum of 1 post per week.
4. By entering the link you are agreeing to be added to the email reminder list. (You can request to be removed at any time!)