Dear friend,
Welcome to the "best of...#ablogginggoodtime." Katie and I are overwhelmed by the number of fantastic posts linked up each week and in an effort to give something back I decided to run a monthly feature to showcase some of the brilliant bloggers who regularly link up with us.
The diversity of posts linked up every month is amazing...everything from recipes to poems and lists, heartfelt and inspiring stories to hilarious tales and brilliant tips. Thank you so much! I know that we both struggle every week to pick out a featured post.
This months featured posts include:
Why we should be taking photos of the mundane...
There is a saying
"A photo can speak a thousand words"
I've never really appreciated the sentiment behind those words, until now. A couple of weeks ago I dragged out my huge box of photos. Hundreds of memories just piled into a box. I realised that I had been so careless with my memories. There were photos that were torn, some were frayed around the edges; some were even missing. In my hands I was holding some of my most cherished memories: holidays as a child, my first holiday on my own with friends, sixth-form ball, reunions with friends. Then there were the recent photos: my wedding, photos of my children taking their first steps. However, I realised that I had made an error in keeping these photos. There was a common theme, these photos all represented what I obviously regarded as important events. There was a distinct lack of photos from the everyday. I then realised that I had been doing it all wrong. I had been keeping and taking photos based on some misguided hierarchy. A hierarchy that meant I only took pictures of what I felt were important events, or that meant I only kept photos that were from an important day or event. Yet as life has progressed, as I have lost more people in life, I realised that I was fundamentally wrong. I was wrong to place one photo over another. I was wrong to take the everyday for granted.
Read more...
First of all, bloody awful that Emma's parents were burgled. I've been through that twice and it's just heartbreaking! Secondly, I agree entirely with the sentiment of this post and strongly feel that photos should be taken of every day – capturing the ordinary is so important. I had parents who hardly took any photos at all, only of special occasions I think it is really sad, especially as I have a very bad memory and don't remember much of my childhood! I drive my kids mad snapping shots of them all the time but I want them to have a record of theirs
.
Alone
The sun is streaming through my lounge window. The lounge is as tidy as it ever gets. The house is not quiet, its peaceful. And I feel reborn.
Its hard to explain how having my four year old start school has made me feel. Yes it's been sad and yes it's been heart wrenching but it's also been somewhat liberating. In a way I wasn't expecting.
I have yet to clean the house. I will, I promise, but I'm just taking my time. My time. Time for me. Imagine that!
This was a stunning piece of writing. Blogging at it's absolute best. It shows the importance of having time to yourself. It certainly feels to me like the fabulous Lisa is hearing herself! Long may it continue. Just brilliant!
10 things to do during half term
After the long summer holidays the October half-term can whizz by without you leaving the house but with a little planning you (and your children) can have as much fun during half-term as you did in the summer.
All those activities you did during the summer are still valid, you just have to prepare for colder weather.
Chester Zoo
We visited Chester Zoo in the summer holidays, the day we chose to go it poured with rain but it didn't make much difference to our day. We took coats and an umbrella and wandered around the zoo. The great thing was that the weather had put people off so there were less people than would've been there if it had been sunny. That meant we could walk around and see the animals without lots of people blocking LP's view. Chester Zoo even have an indoor picnic area so you can still take a picnic with you. Win!
Read more...
Some brilliant suggestions for things to do during half term, it is so easy just to hibernate during the Autumn break. I'd love to take a trip to Matlock, it looks beautiful and I think the boys would enjoy exploring those caves. I'd love to call in for a nice cuppa with the lovely Morgan too. ❤️
My thoughts when spinning.
I love Spinning.
Like many mums, I am short on time. So, when I exercise, I want high intensity to get the maximum out of it.
I never was a gym goer at school. I was always the chubby one, that never got picked for netball or rounders. In fact, I was on the C team for rounders. Oh the shame. It's not really until university that I discovered the power of exercise, and how it can make you feel. I have dabbled with running (well, jogging, who am I kidding?) but Spinning is my current favourite. I love the music, and it's definitely making me fitter and stronger. I am sure I only handled our 18 mile bike ride through the
New Forest
because of the recent Spinning classes I've been going to.
That's not to say I find Spinning easy. Far from it.
Thoughts that go through my head whilst Spinning
Read More...
This post was absolutely hilarious. I've never done spinning but it sounds like hell and I can definitely relate with other awful gym experiences. You must read number 18 it made me LOL and I almost chocked on my dinner.
All our featured bloggers are free to put a special badge on their blogs if they wish!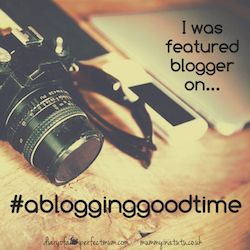 Please show your fellow bloggers some support by sharing their posts across your social media, let's spread the love and give a little back to our wonderful community...