Are you ready for #ablogginggoodtime!
Join Katie and I in a fabulous community of supportive bloggers.
Our linky runs from Thursday to Saturday and all bloggers are welcome to add any type of post...
Help us to spread the blog love! All posts are welcome...
Featured posts this week:
My thoughts when spinning.
This post was absolutely hilarious. I've never done spinning but it sounds like hell and I can definitely relate with other awful gym experiences. You must read number 18 it made me LOL and I almost chocked on my dinner.
Katie's favourite post
Brats in Cafes – from Parent Exhausted
This is ridiculous - at some point everyone was a child and whether you have children or you don't surely you have some understanding of what they must be like - even if you don't have any of your own, chances are you're an aunty , uncle or godparent. It is just ridiculous. An excellent post that had me nodding along as well as making my blood boil. People seriously need to show some compassion or hell hath nu fury like Katie scorned!!
Feel free to put a special badge on it!
The best of #ablogginggoodtime is also out with all of my featured bloggers from October - come and take a look.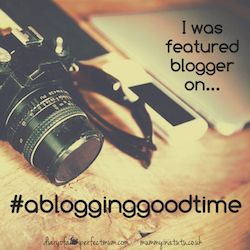 #ablogginggoodtime Linky:
#ablogginggoodtime Linky Rules:
1. Add the #ablogginggoodtime badge to the HTML / Text portion of your post. If you need any help linking up, read the fabulous
Linky Guide
from Cuddle Fairy or tweet us (@animperfectmum @mummyinatutu).

2. Please comment on one post from each host & one other of your choice. (A total of 3 but feel free to comment on more!)
3. Retweet 2 posts of your choice using #ablogginggoodtime (It helps if you have your twitter handle in your social sharing buttons)
3.
Link a maximum of 1 post per week.
4. By entering the link you are agreeing to be added to the email reminder list. (You can request to be removed at any time!)