Are you ready for #ablogginggoodtime!
Join Katie and I in a fabulous community of supportive bloggers.
Our linky runs from Thursday to Saturday and all bloggers are welcome to add any type of post...
Help us to spread the blog love! All posts are welcome...
Featured posts this week:
Stripped Bare:
This post really spoke to me too, I can get very irritated by people's comments too and be over critical of myself. The final statement in this post was a very powerful reminder to look at who we are rather than what! Thank you for reminding me of that!!!
Katie's favourite post is:
The reality of Being a Mummy
from Adventures with J
We put so much pressure on ourselves as new parents whereas actually we are all doing the best we can when thrown into a situation we can never fully prepare for. I think we need to take the pressure off (I'm good at giving advice not taking it just FYI) and try and enjoy our new little people rather than worrying that we are doing something wrong. Great post!
Feel free to put a special badge on it!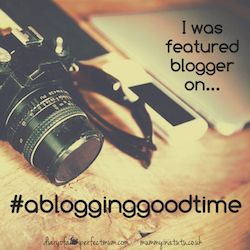 #ablogginggoodtime Linky:
The linky will be open from 6am Thursday – 6am Saturday GMT.

We will comment on and retweet all linked posts.
#ablogginggoodtime Linky Rules:
1. Add the #ablogginggoodtime badge to the HTML / Text portion of your post. If you need any help linking up, read the fabulous
Linky Guide
from Cuddle Fairy or tweet us (@animperfectmum @mummyinatutu).

2. Please comment on one post from each host & one other of your choice. (A total of 3 but feel free to comment on more!)
3. Retweet 2 posts of your choice using #ablogginggoodtime (It helps if you have your twitter handle in your social sharing buttons)
3.
Link a maximum of 1 post per week.
4. By entering the link you are agreeing to be added to the email reminder list. (You can request to be removed at any time!)