Are you ready for #ablogginggoodtime!
Join Katie and I in a fabulous community of supportive bloggers.
Our linky runs from Thursday to Saturday and all bloggers are welcome to add any type of post...
Help us to spread the blog love! All posts are welcome...
Featured posts this week:
Why rejection made me dream bigger.
OMG I loved, loved, loved this post from Petite Words. Especially:
You search for things and mould yourself to what you think is right, when really you just need to focus more on being YOU!
I felt like she was talking about me. The best things that have ever happened to me are when I've stepped out of the expected, like moving to Holland.
Katie's favourite post was:
I found myself in tears last night
from Lisa Pomerantzster.
Its strange how something on the other side of the world from you can affect you so deeply. I cried when I heard the election results because despite the fact it wasn't my country I cried for all the women, children, multi-nationals living in America for whom this election could mean life altering changes. I realise there is nothing more that can be done now so all there is we can do is hope that things won't be as bad as we fear.
Feel free to put a special badge on it!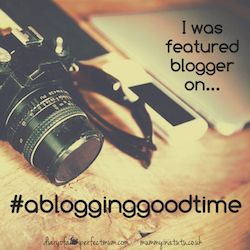 #ablogginggoodtime Linky:
The linky will be open from 6am Thursday – 6am Saturday GMT.

We will comment on and retweet all linked posts.
#ablogginggoodtime Linky Rules:
1. Add the #ablogginggoodtime badge to the HTML / Text portion of your post. If you need any help linking up, read the fabulous
Linky Guide
from Cuddle Fairy or tweet us (@animperfectmum @mummyinatutu).

2. Please comment on one post from each host & one other of your choice. (A total of 3 but feel free to comment on more!)
3. Retweet 2 posts of your choice using #ablogginggoodtime (It helps if you have your twitter handle in your social sharing buttons)
3.
Link a maximum of 1 post per week.
4. By entering the link you are agreeing to be added to the email reminder list. (You can request to be removed at any time!)