Are you ready for #ablogginggoodtime!
Join Katie and I in a fabulous community of supportive bloggers.
Our linky runs from Thursday to Saturday and all bloggers are welcome to add any type of post...
Help us to spread the blog love! All posts are welcome...
Featured posts this week:
A Teenager's Experience of being in the Cenotaph Parade
Catie says: Oh that is so cool that Jo's daughter got to take part in such a massive occasion. I bet her daughter will never forget this experience. I loved her answers, what a caring and thoughtful girl, who really gave us a sense of the special 'buzzy' feeling of this occasion.
The Harder Side of Parenting
Katie says: I think this is such an amazing post – we want to be able to do everything and fix everything for our children but at some point they either won't want us to or we won't be able to and that is a hard reality to deal with. Parenting isn't all sunshine and daisies and we have to take the good with the tough... great post
Feel free to put a special badge on it!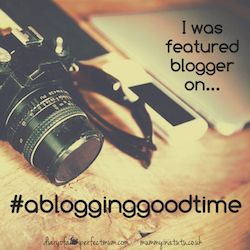 #ablogginggoodtime Linky:
The linky will be open from 6am Thursday – 6am Saturday GMT.

We will comment on and retweet all linked post.
#ablogginggoodtime Linky Rules:
1. Add the #ablogginggoodtime badge to the HTML / Text portion of your post. If you need any help linking up, read the fabulous
Linky Guide
from Cuddle Fairy or tweet us (@animperfectmum @mummyinatutu).

2. Please comment on one post from each host & one other of your choice. (A total of 3 but feel free to comment on more!)
3. Retweet 2 posts of your choice using #ablogginggoodtime (It helps if you have your twitter handle in your social sharing buttons)
3.
Link a maximum of 1 post per week.
4. By entering the link you are agreeing to be added to the email reminder list. (You can request to be removed at any time!)