Dear friend,
Welcome to the "best of...#ablogginggoodtime." Katie and I are overwhelmed by the number of fantastic posts linked up each week and in an effort to give something back I decided to run a monthly feature to showcase some of the brilliant bloggers who regularly link up with us.
The diversity of posts linked up every month is amazing...everything from recipes to poems and lists, heartfelt and inspiring stories to hilarious tales and brilliant tips. Thank you so much! I know that we both struggle every week to pick out a featured post.
This months featured posts include:
Stripped Bare
My last few articles had been well prepared, scheduled and written in advance. Ahh, I thought, I don't have anything this week, and I'm not sure what to write about. I have had a couple of things that I could talk about at a push, but some weeks to be quite honest, things just aren't really that interesting, and I don't want to bore you.
Fast forward to this morning (Fri Morning). Last night we had a ladies group, where we are starting to read through a book called Influential Women by Wendy Virgo. We have just read the first chapter, entitled quarrelling women. It speaks about two women of the Bible Euodia and Syntyche and a quarrel that they have had (though we are not sure what it is about). The chapter looks into and poses the questions on why women quarrell, what do we argue about, what irritates us about each other, and how do we respond to correction. These are not easy things to talk about or think about sometimes. I'm not sure I was in the right place to hear things well enough last night. However this morning some of our conversation hit me like a tonne of bricks.
This post really spoke to me too, I can get very irritated by people's comments too and be over critical of myself. The final statement in this post was a very powerful reminder to look at who we are rather than what! Thank you for reminding me of that!!!
Why rejection made me dream bigger!
I don't know about you, but I've had a lot of rejection in my life. Be it from a person, a company, a university, the list of 'rejectors' is endless. It hurts doesn't it, rejection; it cuts deep deep inside where not many other pains can reach. And it leaves a scar, sometimes a big one. My deepest rejections are still seared on my memory, like a cattle brand, there to remind me of that painful day when I was not accepted, not wanted.
But you know what, here I am. Life went on and the older I got the more I realised just how important and significant rejection is. Rejection led to one of by biggest and best life decisions ever.
I was 21 freshly graduated with a good degree, lots of enthusiasm and a shiny new CV. I felt like the world was full of doors, just waiting to invite me in. Unbeknown to me the recession, my lack of work experience and my ridiculous nativity would soon have me falling flat on my face.
Job interview after job interview, rejection, rejection. I didn't understand why. I worked hard, I prepared, I researched, I worn my little black dress and took my fancy little organiser. Why was I failing?
OMG I loved, loved, loved this. Especially: You search for things and mould yourself to what you think is right, when really you just need to focus more on being YOU! I felt like you were talking about me. The best things that have ever happened to me are when I've stepped out of the expected, like moving to Holland.
A Teenager's Experience of Being In The Cenotaph Parade
My youngest teenager had the honour of participating in the Cenotaph Parade for Remembrance Sunday. A once in a lifetime opportunity, here are her memories of the day, in her own words.
What did it mean to you to take part in the Cenotaph Parade?
It was so humbling to be there with so many different people paying our respects and to be doing the March Past. I hadn't realised until I arrived just how big the whole occasion is.
Describe what happens when you arrive
We all had to gather in Horse Guards Parade for security checks and then after that we had to stand in a set column in ranks of 6 so that we were in the right order for the parade. There were so many people, Army veterans, people in wheelchairs and then groups like us. The Army people wandered around shouting instructions and there were police everywhere with guns. We were behind the Scouts and there was a lot of banter between us. They helped us to redo our scarves and toggles so that they were hanging properly. I think they were teasing us actually as they had done it so many times before whereas none of us had.
What was the atmosphere like?
Everyone was quite excited. It was like a celebratory atmosphere, I mean even though it is a solemn occasion, you feel really buzzy.
Read more...
Oh that is so cool that Jo's daughter got to take part in such a massive occasion. I bet her daughter will never forget this experience. I loved Jo's daughters answers, what a caring and thoughtful girl, who really gave us a sense of the special 'buzzy' feeling of this occasion.
It's time for the next installment of Christmas drinks. This week it's all about gingerbread. I was inspired by a comment left on the last post asking how you would make a gingerbread latte without using syrup. So after testing I found out that it's actually pretty simple. Who knew? It's a bit of a game changer too. It means that making syrup for hot drinks has just got really easy. Maybe this wasn't a good idea after all. I'm going to be the size of a house before Christmas haha!
Of course no gingerbread latte would be fit without mini gingerbread men. Although my assistant did keep stealing them from my flat lay. Thanks Edith!
I'd love to hear in the comments what drink you like me to create next!
Gingerbread Latte
Read more...
I thought that last week's recipe for Honeycomb latte would take some beating but Cathryn did it. This sounds absolutely delicious and I am off to get all the ingredients, although I'm not sure where I can get mini gingerbread men, I may have to make some. Thank you for linking up to #ablogginggoodtime 🎉
All our featured bloggers are free to put a special badge on their blogs if they wish!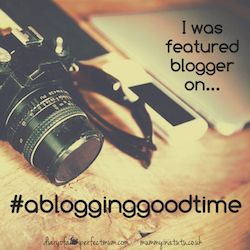 Please show your fellow bloggers some support by sharing their posts across your social media, let's spread the love and give a little back to our wonderful community...