Are you ready for #ablogginggoodtime!
Join Katie and I in a fabulous community of supportive bloggers.
Our linky runs from Thursday to Saturday and all bloggers are welcome to add any type of post...
Help us to spread the blog love! All posts are welcome...
Featured posts this week:
My pick is
this post
from the mother hub. Totally brilliant! Too many people blindly follow and don't actually stand up for what they truly believe because actually making a change is not easy. It takes balls and determination. I loved this post!
Katie's pick is
this post
from Crummy Mummy. I love this post so much – I know it is really light hearted but it actually made me feel a whole lot better about letting my daughter watch TV. She doesn't do it all day every day so what on earth is the harm. Great post that made me smile!
Feel free to put a special badge on it!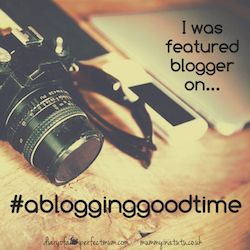 #ablogginggoodtime Linky:
The linky will be open from 6am Thursday – 6am Saturday GMT.

We will comment on and retweet all linked post.