Dear friend,
Welcome to the "best of...#ablogginggoodtime." Katie and I are overwhelmed by the number of fantastic posts linked up each week and in an effort to give something back I decided to run a monthly feature to showcase some of the brilliant bloggers who regularly link up with us.
The diversity of posts linked up every month is amazing...everything from recipes to poems and lists, heartfelt and inspiring stories to hilarious tales and brilliant tips. Thank you so much! I know that we both struggle every week to pick out a featured post.
This months featured posts include:
Reverse Advent with The Co-Op
The Co-Op invited me to take part in their initiative #ReverseAdvent. The idea is every day in advent I put one (or more) item into a box and donate it to someone on Christmas Eve.
They have gifted nearly 700 starters packs to the public so that they can get started with giving back to their community this Christmas. Included in the pack is a flat-pack cardboard box with handles, for your items, a £5 Co-op gift voucher and tips on what you could include in your box and who to donate to.
One of my blogging buddies, Kat from Candyfloss & Dreams spent time in a womens refuge and hostels with her daughter after leaving her abusive partner. Listening to her and seeing how happy she is with her new partner and the family life they have now made me want to donate to my local refuge.
Read more...
What an absolutely fabulous initiative well done coop and well done Jenni for taking part! This is exactly what Christmas should be about!!! I will be looking out for this next year.
There were four in the bed – a tale of bedsharing woe


In the still of the night when Mummy's curled up fast asleep

Over to her bed, one (or two) children creep

"Please, Mummy," they ask, "can we sleep in your bed?"

A bleary-eyed Mummy sighs, nodding her head.

But she knows how the rest of the night will now go

This is her tale of bedsharing woe:




Read more... This was so cleverly written and I recognised this scenario perfectly as I am sure most parents will!


I'm sure it's not just me that finds myself doing things and saying things that make me chuckle now I'm a mum. Tell me, is any of this familiar?
You know you're a mum when…
1. You can't get to sleep because you have the Thomas the Tank Engine theme tune in your head.
2. You get the urge to shout 'tractor!' when you see one whilst you're driving, only to realise there's no toddler in the car.
3. Equally when you hear a fire engine go by, the only reasonable response now is to shout out ne-nor neee noooor!
4. You start to talk in baby language. Sheep becomes Baa Baa. Yoghurt becomes Ogurt. Banana becomes Naana. You get the drift.
5. You use baby sign to tell a Spanish waitress you're hot. True story – I really did this on holiday last year.
This post made me laugh out loud, so true!
What Five Years of Blogging Has Taught Me.
I know I have said it a lot but this week is my blog birthday week. So I've got a post lined up everyday from Monday to Friday to celebrate. Today's post is a rather special one. It's why I started blogging, why I stuck at it and where I want it to take me and everything in between. Including my first blog layout, which is pretty embarrassing! So I hope you enjoy.
I started this blog on Monday the 16th January 2012. I was at uni and felt I needed a creative outlet. I wasn't enjoying uni at all. I was studying photography, I had tutors that I didn't particular like, I traveled 3 hours in a round trip. It was tough. I was reading a lot of fashion and beauty blogs like LLYMLRS and VIPXO and I wanted to do what they did. Sharing fashion and beauty. So that's what I did. I plucked up the courage a wrote
this rather cringe worthy first post.
(Please don't laugh too much). My blog header looked a little something like this.
A massive Congratulations to Cathryn! I loved looking back at her headers and learning about how she has changed blogging direction over the last 5 years. A great post and a great achievement! 🎉
All our featured bloggers are free to put a special badge on their blogs if they wish!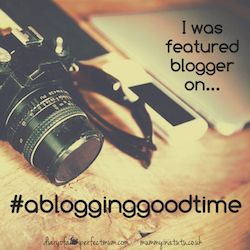 Please show your fellow bloggers some support by sharing their posts across your social media, let's spread the love and give a little back to our wonderful community...
Click to tweet: