Dear friend,
Welcome to the "best of...#ablogginggoodtime." Katie and I are overwhelmed by the number of fantastic posts linked up each week and in an effort to give something back I decided to run a monthly feature to showcase some of the brilliant bloggers who regularly link up with us.
The diversity of posts linked up every month is amazing...everything from recipes to poems and lists, heartfelt and inspiring stories to hilarious tales and brilliant tips. Thank you so much! I know that we both struggle every week to pick out a featured post.
This months featured posts include:
Why I took my toddler to a Women's March
When Trump was won the US presidential election, it really threw me through a loop.
I wrote this post
not long after I found out the result, questioning if I would ever want to get my daughter US citizenship given what was happening to my home country. America had changed into something that I barely recognised and didn't really want to be associated with.
It felt like a bad breakup. We had been so close once, but now it had betrayed me and I was heartbroken.
I'm still not rushing out to get my daughter that passport, but things are looking much better than they did back in November, thanks to the millions of nasty women (and men) all over the world who took to the streets yesterday to fight back.
I really admire Katie for taking Popple on the march and she is so so right love trumps hate anytime! Great post! 🌟
WHEN YOUR LIFE BECOMES A GIF!!!
Over our first Christmas and New Year as a family of 5 I have had the highs and the lows of trying to organise. A.Lot of stuff, keep everybody happy, make sure we see as many family members as possible and still have that time to hunker down in pj's in front of the fire whilst munching on cheese footballs, chocolate covered Brazil nuts and mince pies.
With Hubs working Christmas Day day and a Boxing Day night shift all of the above has been full on! Oh yeah, and we also needed to find time for the 5 of us to have our own crimbo celebrations!
As a huge lover of I love Lucy I feel that the following can quite simply and effectively illustrate me this festive season just passed.
I do love Lucy (reminds me of my fabulous nana and grandad) and how does she capture so many emotions just with her expression. who doesn't love a good GIF?!
Living with a Jude
for a while now. I love the her honesty and humour while she tells the story of living with her young family including her son Jude who has autism. When Alice said she would like to guest post I gave her free reign of any topic she wanted and I'm glad I did. I love this piece she has written about extrinsic and intrinsic motivation… My interest in intrinsic motivation came from my training as a Montessori Teacher. I learnt so many things during this time and my eyes were opened to an immense amount of obvious but apparently holistic methods of raising and teaching children.
So what is intrinsic motivation? Intrinsic motivation is considered as performing an action or behaving in a particular way because you enjoy it and feel an internal sense of order and responsibility. It is an act entirely self-chosen. Extrinsic motivation is the opposite so purely doing something because you've been told you will be rewarded (or punished) in some way if you do or do not comply.
Read more...
Oh I loved this post and I agree wholeheartedly. I have actually just written a passionately put post about why I hate sticker charts (will be out soon). I strongly believe that children should be doing things for their intrinsic value!
WHAT IS LOVE?
It's an odd question isn't it… What IS love? I often wonder about it, I bet you're thinking , WOW here's a lady with way to much time on her hands, but no, I just think it's a question that deserves a thought and it IS almost Valentine's Day!
LOVE: some say there are different types of love; the love of husband, love of a mother, a father, love of a friend, sibling love, to me it's always been ONE love, like Sir Bobby Marley preached. And that's how I knew, when I met my husband, that's how I knew I loved him. He felt like my family, almost instantly, like I'd always known him, he was the missing piece of my Petite jigsaw.
So we all know LOVE is amazing, but do we ever really stop to ponder the true 'power of love', yes I know it's pure cheddar cheese, but do stay with me…
I believe we don't think about LOVE enough, we talk about it enough, but never really stop to give LOVE enough credit.
What a beautiful post I loved it! Totally agree with: LOVE shows us perfection isn't real and that life and people are imperfect by nature. I agree we don't actually stop and think about love enough! Thanks for making me!
Milestones the ones they don't tell you about
There's an obsession with milestones. From the moment they're out, we're waiting to see our little ones focus, smile and laugh, then role, grab and crawl, cruise, clap, wave, dance, eat, build, sort, waddle and speak. Should parents be so keen? Why don't we hear about the downsides?
We might be keen on seeing the milestones because we're building little people, so we like to see when the next brick is firmly in place; or we're being competitive with other parents because our kid is obviously the best. Dads are generally allowed to be more open about this, although I've seen a few mums beam when their baby roles over and 4 months and the 5 month old next to them is struggling to lift its head.
But the big reason is probably that we're excited about the next new phase. It's like upgrading your phone, you enjoyed the baby belly shuffling their way round and speaking gibberish, but they just got upgraded and can now move on 4 limbs and shout 'poo' at strangers on the bus. Great! What we forget as parents is that learning to crawl, and then walk raises your stress levels a lot. We like milestones because we don't realise the added stress before the upgrades settle in to our little cutie piglets.
Read more...
This is just brilliant and I absolutely loved how Dave likened hitting milestones to upgrading your phone! A must read post for all
parents.
All our featured bloggers are free to put a special badge on their blogs if they wish!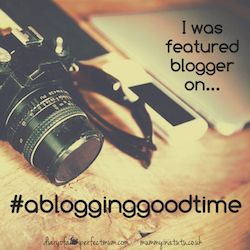 Please show your fellow bloggers some support by sharing their posts across your social media, let's spread the love and give a little back to our wonderful community...